Swim lessons for babies & toddlers
Our Under 3s swimming lessons for babies and toddlers are the perfect way to start developing your child's skills and give them more experience to become confident in the water.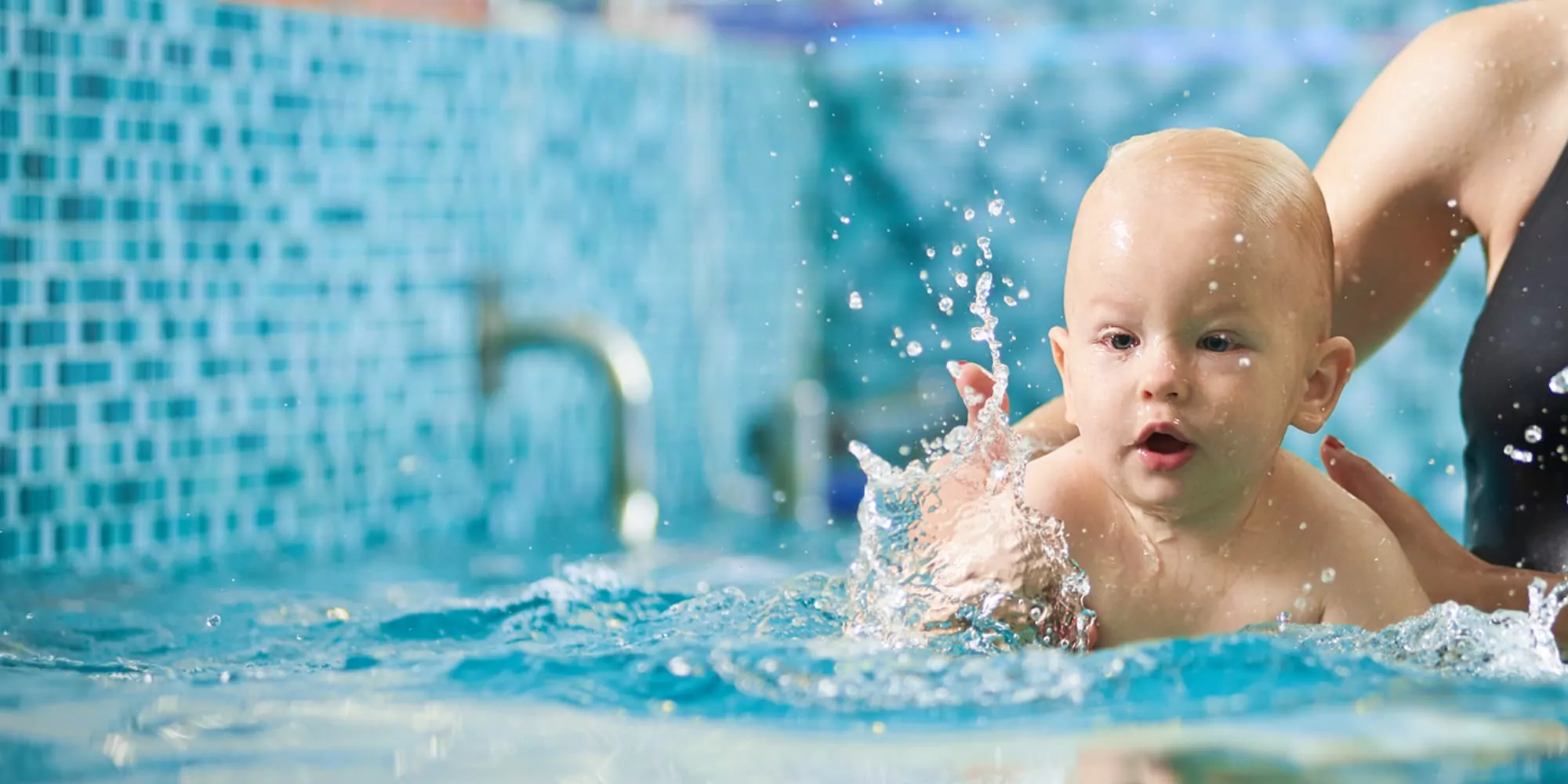 Teaching under 3s to swim in Glasgow and Edinburgh
You're never too young to learn how to swim – that's why you can learn to swim at MJ Swim Academy from as young as 6 months old! We always aim to provide a warm, nurturing, fun & progressive environment for your little ones to thrive in their swimming journey.
Our lessons cover all of the basic essential swimming skills, including floatation, rotation, propulsion, submersion, safe entries & exits and water safety. We empower children in the water by having a child-led approach to our lessons, which is why we ask the children themselves, not the adults accompanying them, for consent to perform the practices.
Our swimming lessons in Glasgow and Edinburgh will allow your child to develop their social and communication skills at an early age. Improved eating and sleeping patterns due to increased movement supported by the water, quality bonding time for you and your child, and making new friends are just some of the benefits of our swim classes for infants.
Please note that these classes are extremely popular and availability is very limited, so sign up to our waiting list email to be the first to know about new slots opening.
Swimming classes for infants: developing your child
All of our instructors are trained to STA Level 2 standards – far higher than the swimming instructor industry standards. At MJ Swim Academy, we believe our swimming for preschoolers classes can help to develop the mind as much as the body. At this young age, our classes can help to strengthen your little one's crucial cognitive development, but all of our instructors are also fully trained in mental health first aid, giving your child all the mental support they need and more.
Your Journey
We offer a comprehensive swimming program for children as young as 6 months old, with a child-led approach that prioritises your baby's care during every session.
Our warm, nurturing, and fun environment is designed to facilitate your child's progress and success in their swimming journey.
In addition to the numerous physiological, psychological, and social benefits of early swimming lessons, we also provide wellbeing awards to all our swimmers, recognising and celebrating their achievements and helping to build their confidence.
The benefits include:
Building up a child's communication skills
Helping them to develop confidence in their abilities
Encouraging the child to take turns and share
Improving the child's health, sleep, and cognitive function
Encouraging a healthy appetite and developing muscle strength
Teaching the child how to take healthy risks
Adult & Child (Under 3's) Awards
Discovery Ducklings Awards: How we measure your child's swimming progress
Teaching infants to swim is a really gratifying experience for everyone involved. That's why we introduced the Discovery Duckling Awards – to record their gains week by week so they can be celebrated appropriately. These awards are perfect for babies, toddlers and preschool children who are new to swimming lessons, and they allow the children to gain water confidence and learn basic water skills while still staying close to adult support.
There are several 'I DID IT!' awards to gain in the under 3s swimming classes and we can't wait to see you and your child in the pool, bonding and learning together, gradually gaining more and more confidence and owning your swim journey.
I splashed water on my face

I put my head underwater

I blew bubbles on top of the water

I blew bubbles under the water

I swam under water with help

I swam under water by myself

I travelled through the water on my front and back with help

I travelled through the water with help for 5m

I travelled through the water by myself for 5m

I floated on my front/back with help

I floated on my front/back by myself

I turned around with help

I turned around by myself

I flipped over with help

I flipped over by myself

I travelled along holding onto the wall for 5m with help

I travelled along holding onto the wall for 5m by myself

I jumped in to the water with help

I jumped in to the water by myself

I jumped in and returned to the wall

I jumped in and did a star float

I entered/exited safely
Nurturing well-being in the water
To encourage our infants learning to swim, we came up with the Well-Being awards.  There are 6 well-being awards that our under 3s swimmers can attain, each one focusing on building relationships and developing their personal skills. The criteria for gaining them include:
My Adult & Me – You have shown a mutual trust and respect for each other in the water.
My Teacher & Me – You have shown confidence to explore the pool with your teacher.
My Friends & Me – 

You have shown that you are able to participate and share with your class mates in your lesson.

Happy Swimmer – 

You have shown that you are content and confident in learning new skills in the water.

Little Explorer – 

You have shown that you are adventurous and excited to learn new things.

Independent Swimmer – 

You have shown that you are happy to explore the pool and try new things without your adult.
For more information on these awards, our venues, or swimming lessons for under 3s in Glasgow and Edinburgh speak to one of our STA Level 2 qualified staff or email us at info@mjswimacademy.com
What class is right for your child?
If there is no class availability showing for your selected class level as per the flowchart below, please email info@mjswimacademy.com or give us a call on 07733 985575.
Ready to 'Own Your Journey'?
Ready to join us and become a confident, empowered swimmer? Book your swimming lessons for preschoolers and swimming classes for 1 and 2-year-olds here.
Footer Form
"*" indicates required fields