Over 3's Child Swimming Lessons
Our kids swimming lessons are the perfect way to start your child's journey to becoming an accomplished, confident individual and swimmer.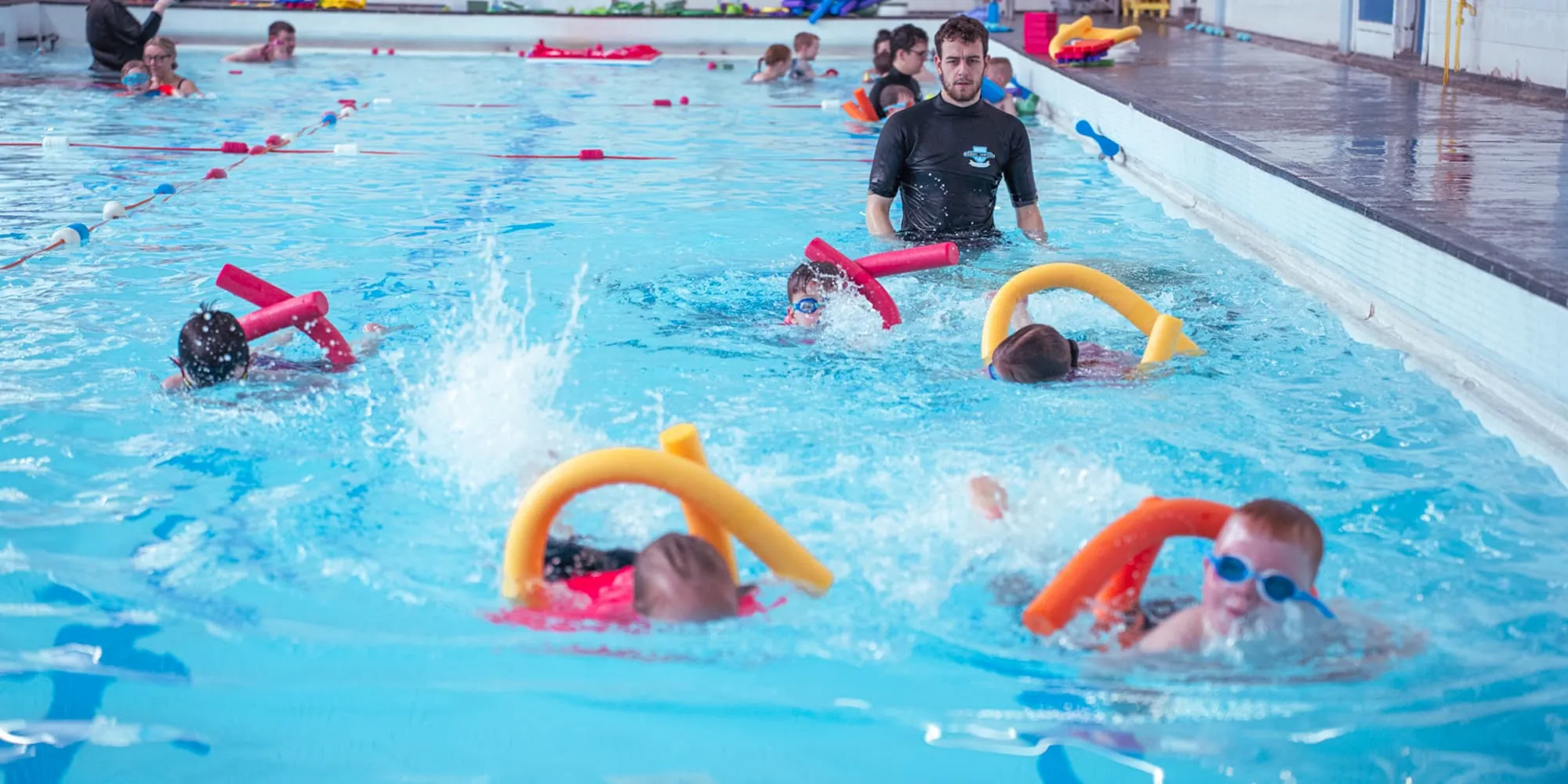 Teaching 3-year-olds to swim
Our over 3s children's swimming lessons are the perfect way to start your child's journey to becoming an accomplished, confident swimmer. If they've swam with us before in our 'baby classes', we offer a seamless transition from our Under 3s classes to this more advanced level.
Our lessons take a 'swimmer-led' approach, to ensure that we look after both the person and the performer. We focus on using sport not just to build swimmers, but to help young people build skills for life that will see them excel outside the pool.
Through our swimming lessons in Glasgow and Edinburgh, your child will gain confidence, learn self-evaluation and reflection, promote the importance of teamwork and supporting others, as well as help them to develop great social and communication skills.
Please note that these classes are extremely popular and availability is very limited, so sign up to our waiting list email to be the first to know about new slots opening.
How we'll teach your child to swim
All our instructors are trained to STA Level 2 standards, which are far higher than the swimming instructor industry standards. They're also fully trained in mental health first aid, so not only will we teach your kids how to swim, but we'll also train and discipline their minds at the same time.
We have four different coloured levels of performance that we use to classify your child's current swimming ability. We also use them to judge how their swimming ability is progressing and when they should advance to the next category. We always invite you along for the journey, which is why you can log in anytime and view your child's swimming progress.
Non-swimmer - Black
In this first level of youth swimming lessons, we'll work on building their confidence in the water. These basic swimming lessons will teach them to swim up to 5 metres on their front and back using buoyancy aids and then we'll gradually decrease their dependency upon them.
Beginner - White
We'll build upon what the children learned in the black performance stage by instructing them how to swim 10 metres independently using front-crawl, back-crawl, full-stroke, breaststroke, and butterfly-kick techniques.
We'll start to encourage the children to feedback on their learning, and to be more aware of how their body moves in the water. We'll also start introducing transferable aquatic skills such as sculling, rotation, and the putting together of sequences.
Improver - Blue
This swimming class is for kids aged 3 and over that already have a good grasp of core swimming techniques. Our Blue Level young swimmers will continue to perfect them over increasingly longer distances and in increasingly deeper water (venue permitting).
We'll also begin to introduce personal survival skills and encourage swimmers to self-reflect and evaluate their performance.
Advanced - Silver
The advanced class is designed for children who want to prepare for club swimming or for those who just love keeping active in the water! Strokes will become more efficient over greater distances and aquatic skills and drills will become more complex and competitive swimming skills will also be introduced for the first time.
Our Well-Being Awards for the Over 3s
Developing the physical skills to swim safely is paramount to us but, we also believe we should award the development of psychological & social skills. That's why we've launched our industry leading Wellbeing Awards. Introducing our learners to language around elements such as resilience, sportsmanship, courage is important to us & we help build these behaviours through our associated certificates.
Confidence
Swimmers will earn this award when they have shown belief and trust in themselves when taking on new challenges.
Self-Worth
They will earn this award once they show that they value and respect themselves to 'Own Your Journey'!
Building Connections
For displaying good communication, trust and emotional support when nurturing new relationships.
Independence
Showing that they can take responsibility for their own actions and have learned to do things for themselves.
Resilience
They have shown that they can stay positive and keep going in challenging situations.
Curiosity
Showing initiative while learning and genuine excitement to learn new skills.
Engagement
You will earn this award when you have shown motivation, focus and enthusiasm in your learning!
Sportsmanship
You will earn this award when you have shown that you can accept your challenges along with your victories as well as celebrate others!
Which swimming lessons are right for your child?
If there is no class availability showing for your selected class level as per the flowchart below, please email info@mjswimacademy.com or give us a call on 07733 985575.
Ready to 'Own Your Journey'?
Ready to join us and become a confident, empowered swimmer? Book kids swimming lessons for your over-3s here.
Footer Form
"*" indicates required fields