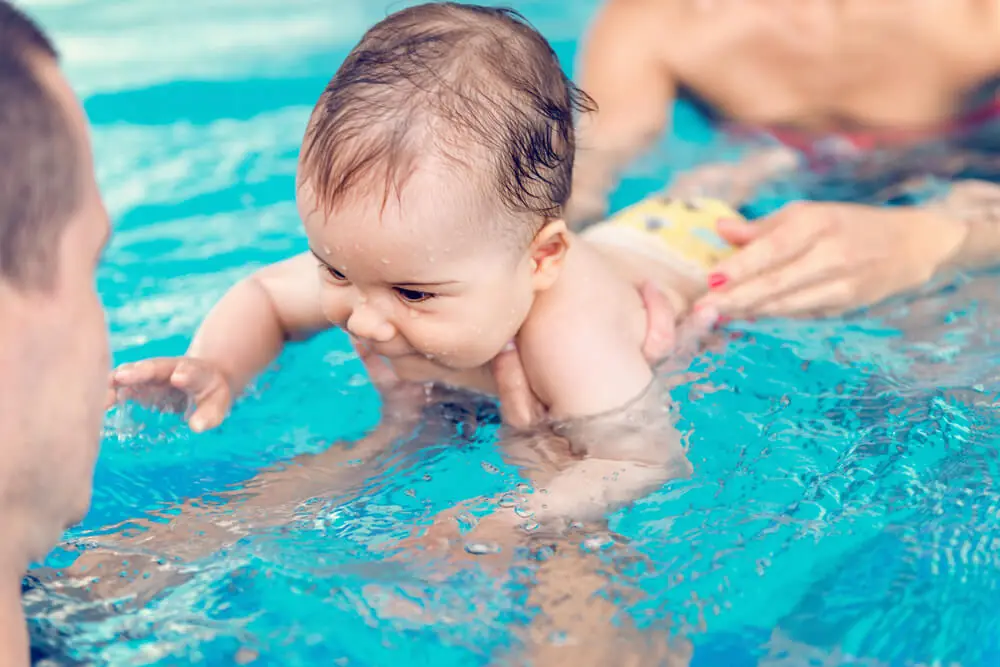 Sending your little one off to the pool? If so, you might be wondering what to pack to make sure your baby's swimming lessons go as smoothly as possible.
Well, that's what we're here to help you with. As exciting as this must be for you as a parent, knowing what essentials (and some nice-to-haves) to bring with you will make sure it goes as swimmingly as possible.
Essentials
Swimwear
Skincare
Towels
Nappies
Nice to haves
Floating toys
Snacks
Locker coins
Packing the essentials for your baby's swimming lessons
1. Swimwear
It's an obvious one, really.
A successful and enjoyable swimming lesson for your baby starts with the right swimwear.
A well-fitting swimming costume not only makes your baby comfortable but also adds an important layer of protection, allowing them to splash around with confidence.
One standout option is the baby wetsuit – a great addition to your little one's swimming kit. Wetsuits are designed to keep your baby cosy and shielded from the chill, especially in cooler water temperatures.
When it comes to swimming accessories, another essential is armbands.
Like a bike's stabilisers, armbands keep your baby afloat in the water and give them an extra sense of security as they develop their early swimming skills and become more independent in the water.
Consider bringing a swim cap and some goggles for your little ones to help them stay extra comfortable whilst they explore the water.While these aren't 100% necessary, it could be a good idea to introduce them to your baby straight away, so that as they get older and need them for their swimming, it's already second nature to them.
Swimwear checklist
Wetsuit
Armbands
Goggles
Swim caps
2. Skincare
When it comes to packing essentials for your baby's swimming lessons, skincare products like wet wipes and barrier cream stand out as the unsung heroes that contribute to both your baby's comfort and skin health.
Barrier cream makes sure that the chlorine in the pool water doesn't take too much of a toll on your baby's sensitive skin. Apply a protective layer before your baby's swim and it will keep their skin moisturised and free from irritation so they can enjoy their aquatic adventures with minimal discomfort.
Wet wipes not only make the after-swim clean a breeze, but also keeps your baby fresh and comfortable throughout their lesson. Be it wiping away residual pool water or gently cleaning away leftover barrier cream, wet wipes make easy work where regular tissues fall short.
Skincare checklist:
3. Nappies
Whilst they're still young, it's also important to consider bringing a selection of nappies for your baby's swimming lessons. You may be thinking that nappies would just soak up the pool water immediately, and be rendered useless in seconds.
Well, that's where swim nappies come in. Also known as 'aqua nappies', these nappies are specially designed to play a crucial role in maintaining a clean and worry-free time for both baby and parent.
Crafted from water-resistant materials, swim nappies are designed to hold in any accidents whilst allowing liquid to pass through freely. This makes sure your baby can enjoy unrestricted movement during their swimming lesson without any discomfort.
Luckily for parents, there are two main choices for swim nappies, disposable and reusable:
Disposable swim nappies
These nappies are designed for one-time use, and eliminate the need to clean them after every swim session, a practical solution for the busy mum or dad looking for a hassle-free option.
Reusable swim nappies
If you want to do your bit for the environment, then the reusable swim nappies are a great option. . Made from durable, washable and adjustable materials, they're not only gentle on the planet, but provide a cost-effective alternative in the long run.
Whilst they do need cleaning after each use, many parents appreciate reusable nappies as a long-term investment that keeps their babies mess-free over weeks and months of swimming lessons.
4. Towels
Don't forget the towels! Once your baby comes out of the pool after their swimming lesson, you're going to want to wrap them up snugly into a towel to absorb any excess water and keep them from getting chilly.
But which towel should you go for?
Luckily, there are a variety of towels that you can pack for your baby's swimming lessons that all do a great job.
Large towels – A large absorbent towel will give plenty of coverage to your baby as they dry, and allow them to stay warm and cosy after their time in the water.
Hooded towel – These are great options for keeping your baby's head and body comfortably covered. The hooded design not only adds an extra layer of warmth, it helps to dry their hair much quicker. What's more, they tend to come in adorable designs, making them a favourite amongst parents and children alike.
Hair towels – If your little one is blessed with luscious locks, using a hair towel which wraps securely around their head can be incredibly helpful in keeping wet hair in check whilst you tend to other post-swim tasks.
'Nice to have' items to pack for your baby's swimming lesson
Now we've gone through the absolute essentials that should stay in your swim bag week after week, let's breeze through some less important items that are no-less helpful and enrich the experience for you or your little one.
1. Floating toys
It's not guaranteed that your baby will take to the water as quickly as you'd like. In fact, their first swimming lessons might even trigger feelings of unease or uncertainty. This is a completely normal reaction and our teams will support your little ones every step of the way.
To aid them in their journey towards feeling comfortable in the water, consider packing a familiar distraction – like a bath toy – to divert their attention from any initial nervousness.
These beloved toys can be a source of comfort, helping them associate the water with familiar and soothing experiences, in a space your baby knows and trusts.
2. Snacks
Swimming can be hungry work!
But so can watching swimming for hours a week…
…make room for something tasty in that swim bag of yours, you both deserve it.
3. Locker coins
If you're not able to keep a hold of your little one's things whilst they're in the water, take advantage of any lockers that are available – for a small fee, of course.
Packing for Success
When it comes packing for your baby's swimming lessons, preparation is key to a pleasant and safe experience for all. By packing the essentials like swimwear and skincare, you can ensure they're comfortable throughout, whilst other items like distraction toys can help your little ease into the world of swimming that much easier.
So, pack smart, stay positive, and watch as your baby dives into a world of waterborne adventure, they'll thank you for it when they're older.
Baby swim lessons in Edinburgh and Glasgow
Are you looking for baby swim lessons in Scotland? Then MJ Swim Academy is here to help your child dive into confidence.
Our professional tutors, led by Scottish Olympian Michael Jamieson, offer comprehensive, small class lessons in venues across Edinburgh and Glasgow. Get in touch today to book your first lesson.