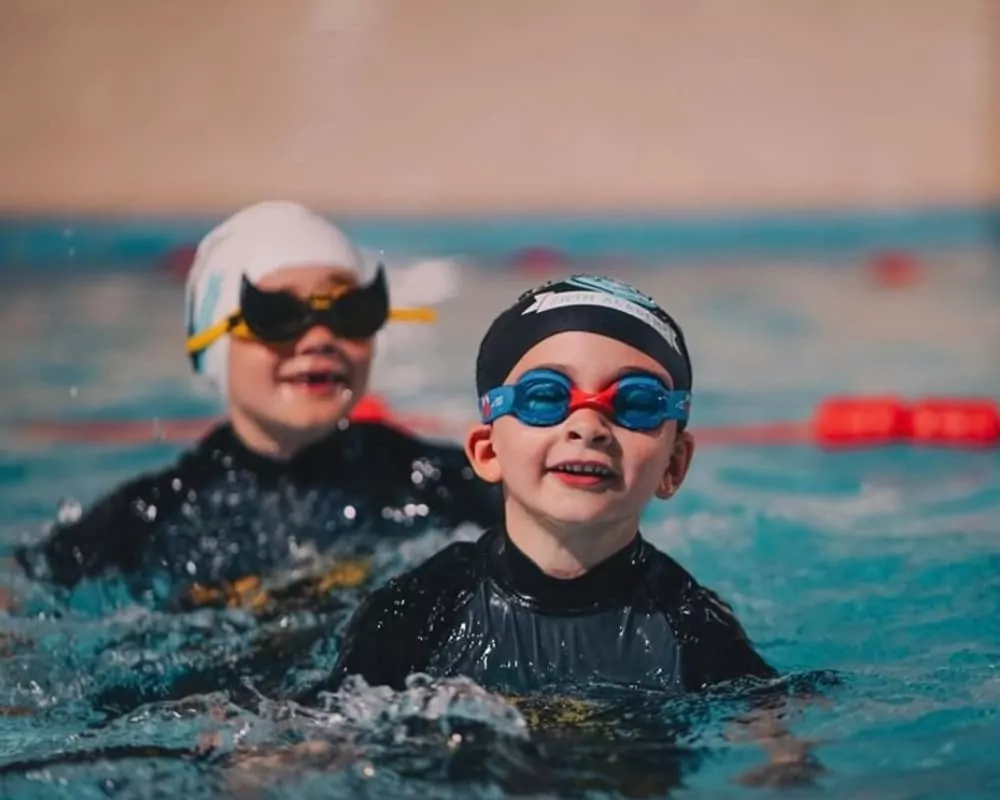 There are many benefits for children that come with attending regular swimming lessons! One of the main reasons for learning to swim is water safety. Learning how you can stay safe when in and around water is one of the top reason's parents enrol their children (and themselves!) into swimming lessons. 70% of parents feel that swimming is the most important sport for children to learn. Whilst in lessons learners will become more safety aware and learn the skills required to keep themselves safe and potentially help others in difficulty. Other benefits of learning to swim include:
Social interaction – participating in a sport and learning from peers plays a huge part in personal development. Children learn patience, how to share and how to respect others. Children can also form close friendships and learn how to welcome new class members which are key social skills.
Health & fitness – regular swimming can help to improve general fitness by building strength and increasing lung capacity whilst having minimal impact on the joints. It can also help to improve eating and sleeping patterns which play a huge part in overall health. These benefits gained by participating in regular swimming can be transferred across most other activities that children may participate in for example, improved endurance on the football pitch, better agility and flexibility and even better concentration when completing homework tasks!
Wellbeing – the NHS promote 5 steps to wellbeing which are: connecting with other people, being physically active, learning new skills, giving to others and paying attention to the present moment. Our swimming lessons provide the opportunity for each of these steps by incorporating mindful practices. This allows our participants to learn a skill that not only will contribute to present wellbeing but provide them with the ability to better cope with future stress & adversity. Plus being in the pool with friends splashing around and having fun makes us feel  good & happier!
Self-confidence – with every milestone achieved all the 1% gains readily available throughout every lesson will build confidence and develop a sense of pride and accomplishment. Being in the water without their adult is a big deal to some children so just getting in and participating can massively boost confidence!  As children progress through different class levels they will be encouraged to set goals and work towards them which will allow them to see and feel what can be achieved with perseverance.
Inclusive activity – the pool can be enjoyed by anyone and everyone regardless of age or ability! Being in the water enables far greater participation and freedom of movement than most other sports or activities due to the weightlessness you feel when submerged. Family swims can be enjoyed fully when children are confident in the water, and this is where regular swimming lessons can really transform how you as a family can enjoy the pool together!
A skill for life – being a strong & confident swimmer allows for so many other opportunities, from being able to participate in other water-based activities such as sailing and kayaking to working towards careers which require you to be a competent swimmer such as a pool or beach lifeguard, armed forces or even following in the footsteps of your favourite instructor and become a swimming teacher! Once your child has learned to swim it is a skill they will carry for the rest of their life ensuring that no matter where they are they will always be safe in and around the water – 62% of parents agree that swimming is an invaluable life skill!
Join the Michael Jamieson Swim Academy today to enrich your child's life with the amazing benefits that come with learning to swim and attending regular lessons! Please also let us know what benefit's you have experienced from your child or even yourself learning to swim!